How to color Skin with Copic Markers – Video Tutorial
Who struggles with coloring Skin using Copics?!?! Today I'm going to share How to color Skin with Copic Markers – Video Tutorial! I'm using the beautiful new stamp from Spellbinders Stamp Kit of the Month. It's absolutely perfect for coloring skin. This set has limited quantities so if you want it — don't wait!
I stamped my image using Memento Black Ink and stamped onto my Copic Xpress it Blending Card. To get a nice solid stamped image I use my Mini Misti for stamping.
I use the same Copic Markers for skin tones plus or minus one or two. Here's my favorite color combos. Of and I always lay my cheek color down first — this way the skin tones will help soften up the pink and make a much softer look.
Light Skin – E0000, E000, E00, E11 and little E13
Medium – E000, E00, E11, E13
Dark – E00, E11, E13, E25
If you want a lighter look — be a little more light handed and if you want a darker look be a little more heavy handed.
Check out my All About Skin Tones Post!
If you are struggling with Copics you might want to check out my Copic E-Course. It's 6 days full of info and downloads all delivered straight into your inbox!
I colored the flowers before — so the video is just learning about coloring and blending Skin Tones with your Copic Markers.
Here's the list of the Copics I used for the flowers – R32, R30, E13, Y02, YR04, Y35, BV000, BV02, BV04, B14, YG13, YG17
Skin Tones I'm using is R32, R30, E13, E11, E00, E000
Make sure you check out the other Spellbinders Kit of the Months — the new mini die kit is so cute! I love that scooter!
Supplies Used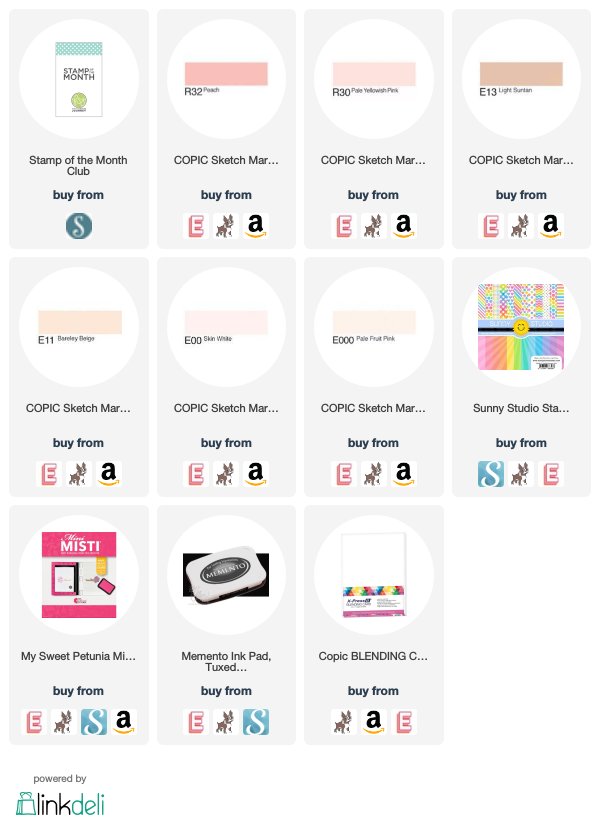 Pin the image below so you can always find your way back to this post!