Holiday Backgrounds Class
It's almost officially Fall — and my absolute favorite time of year. That crisp chill in the air, the colors of the trees and the anticipation of the Holidays and.. boots and scarves! I LOVE Fall!
Last year I created this awesome Holiday Backgrounds Online Coloring Class and I've already had lots of emails asking if it will be re-opened and here it is! This class will only be available for a limited time only — closing date is still undetermined.
Here's a list of the techniques you'll be learning in this course.
Blending / Flicking
Blending multiple shades together
Wood
Leaves / Shrubbery
Grass
Depth Perception
Snow
Night Scene
Coloring and creating textures
Pumpkins/Trees
We will be coloring 4 different scenes that you can easily combine together and with your stamps.
You don't need any stamps for this course we will be building these scenes freehand. I am using a My Favorite Things Stamp to show how versatile the scenes are when adding images to them. Check out my posts from Last Year to see more examples.
Pumpkins by the fence Scene Card Sample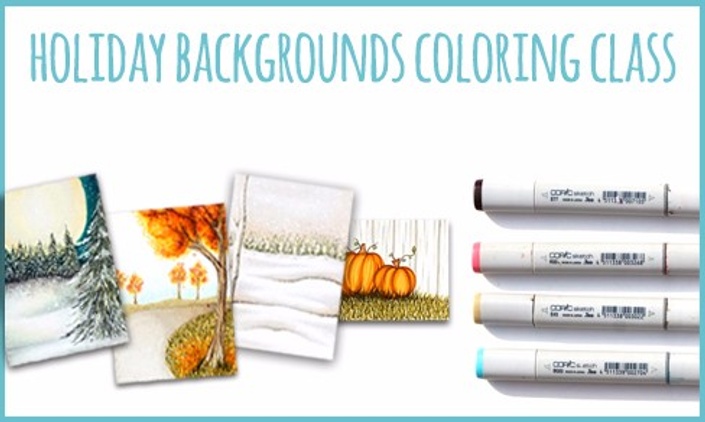 Sign up today for lifetime access to the course!
Pin the image below so you can always find your way back to this post!
Linking up: Dragonfly Dreams • Lil Patch of Crafty Friends • Pile it on • The Corrosive Challenge • A Bit more Time to Craft • Crafteeze • Crafters Cafe • Crafts Galore Encore • Createful Heart Challenges • Fabrika Fantasy • LeAnn's World 101 • Love to Craft • Pause Dream Enjoy • Scrap From Your Heart • Crafter Castle • My Favorite Things Coloring Superstar •