4 Different Ways to Embellish your Cards using Nuvo Drops
Hi there! I'm back with a card set for Tonic Studios and sharing 4 Different Ways to Embellish your Cards using Nuvo Drops. If you are like me and like to add that little extra touch to your cards — then you are going to love these 4 simple ideas to add to your cards.
I first started off with 4 cut and scored card bases measured at 5 1/2 x 11 and scored at 4 1/4. I'm also using the Craft Perfect 6×6 paper pad by Tonic Studios called Silver Jubilee. This paper is gorgeous and has a beautiful silver and rose gold foil design on the white and kraft papers.
I cut all my patterned papers to 5 1/2 and then cut the width at an angle on all my cards. It's a very simple and elegant design. Each of my cards are also featuring one of the Tonic Sentiment Dies and they are cut out using some fun foam. The fun foam gives your card some texture and dimension.
Here's a quick video sharing my cards.
TIP: I like to make all my cards with a top fold so the stand better.
For this first card I'm using Nuvo drops is to create a dotted pattern along the edge of the patterned paper. You could go big small, or all the same size or even smaller with each dot. I'm using the Glitter drops called Summer Sunrise.
On this 'Hello Card' I'm again using the Nuvo Glitter Drops Summer Sunrise. This time I'm drawing a line with the drops right at the edge of my patterned paper.
For this 'Thanks Card' I'm using the Crystal Drops Gloss Calming Aqua and I've scattered different size Nuvo drops all over my card. I used various size drops to give my card a little pizzazz. You can do this directly on your card and set aside to dry or you can pre-make your drops on your Tonic Glass Mat or on some parchment paper and store in a container or baggie.
My 'Celebrate Card' is one of my favorites. After I die cut my fun foam using my Celebrate die I traced over the foam. (after adhering it to my card.) I really love the smooth look of the Nuvo Crystal Gloss Calming Aqua color. It almost looks like icing on a cake!
Dd I get your creative juices flowing and ready to embellish your cards with some Nuvo Drops!?
>>> Check out my other posts using Tonic Studios Products! <<<
Supplies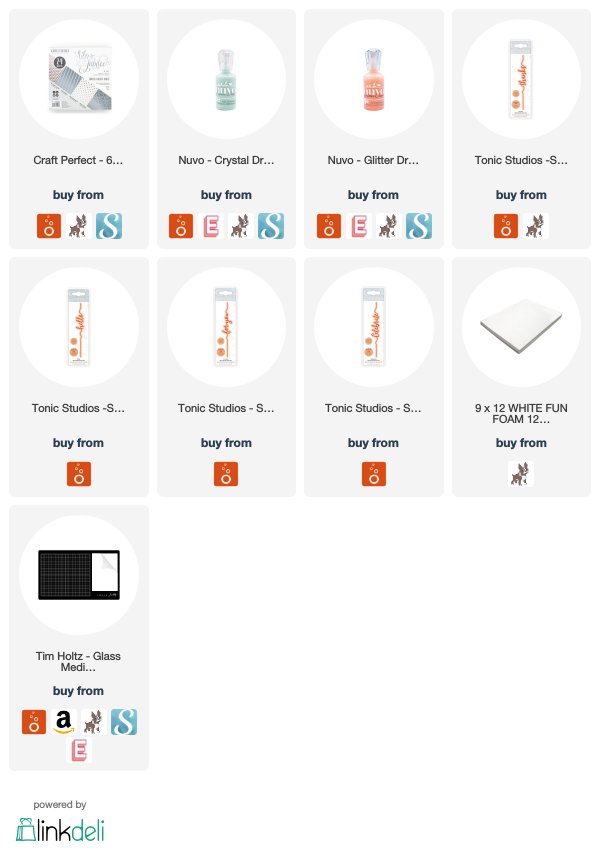 Pin the image below so you can always find your way back to this post!